"The Biggest TV in the Universe is your Brain," Sunspot Jonz (AKA Corey Johnson) tweeted recently. "We all satellites beamin' somewhere," he says in a song.
This may be the most inspiring, personal, and spiritual interview I've written. Read on to learn how a guy from East Oakland created a sensation in the form of The Living Legends, jumpstarting the careers of Murs, The Grouch, and many others…….
Corey Johnson: What's good, man?
Shoshone Johnson: You've written seventeen feature screenplays! Take me through that and tell me about the themes and the work you've done.
CJ: I've been writing scripts since I was in college. I used to go to school in Hawaii at a small liberal arts college in Oahu. Me and the person who ran the program didn't get along. She had put me in the play as assistant director. It was Lorraine Hansberry's To Be Young, Gifted, and Black. The woman who ran it kind of fired me and told me I was telling the actors all these different things, so she gave me my own drama night to see if I could do it myself. She didn't think I would do it, but I did.
I wrote my first play, Faces of War, about soldiers coming back from different wars and the s*** they had to deal with in America. From that moment on, I was always writing and creating scripts, mostly screenplays.
I wrote scripts for a guy named Regi Green, who was the character in the wheelchair in Boyz N the Hood. He met me on Shattuck after I dropped out of college. He's from Richmond.
I was living in the back of my auntie house in East Oakland, working on the follow-up to the play that I'd just written in college and dropped out. I wanted to be a pediatrician in college, entering the biology field, before I dropped out. After that, I gave up on writing scripts for a minute.
I was hella young, and I was just starting to do music a lot more.
I'd done a demo on Maui in college, so I wanted to follow that up and make my own music. So I got a chance to rent a sampler at a place on Shattuck across from the UA, and I started making beats, and from that moment on, I kinda put away writing screenplays for a while to write rhythm screenplays, music screenplays.
The music stuff was good, and we needed videos, we needed people to film them, and I had a film background, so I started meeting all these film people, and I told them I wrote scripts.
Around that time I directed the Living Legends' "Nowyouno" video, which is one shot through the whole video.
After that I was really trying to get back into this film s***, because that's the next level, putting them together. The person who shot that video, he was down to shoot my short for me, and that's how I wrote and directed a little short called Resin, about me waking up and my girl took all my weed, and all this bad stuff happened, there's no soap, no toilet paper, and in the end I scrape up the resin and smoke that and that's the end. After I did that, I needed to get back on making it happen.
Hollywood's only about negative films when it comes to portraying black people, so I'd given up on the whole notion of being able to attack Hollywood. When I first did the thing for Regi, I thought it was my way in.
Once I found out that's not the reality, and I pulled away, I realized that I didn't need Hollywood, I just needed the idea, and I could make the films myself. How much can it really cost to make a film? That was before HD camcorders. I was paying for 16mm film in 100 feet cans. That's like $100 for nine minutes of film.
That's when I came up with Street Legends. We were doing shows at Maritime, in San Francisco. They were so massive, I was thinking that this payday from the show I could just use to make a film. At that point, I made the Living Legends documentary, Street Legends. It's about us going from Cali up to Canada on tour in two RVs and everything we encounter.
After that, I was like, "I'm trippin'. I just need to merge the independent along with a studio pic." At this time, I'd just moved down to LA from East Oakland. I thought, let me start trying to figure out how I can use other people's money to make films. I was around a lot of other kids that was doin' film too, so a lot of people was influencing me to think differently.
That's when I just started writing nonstop. That's when I started creating all these different scripts, and trying to attach producers, or get people to read it. I really didn't get any studio looks, because I didn't feel like I was making the films they were looking out for.
I wrote Sonny Dreamweaver, and I knew these film student kids and I ended up shooting that with them. That was my first feature with an actual storyline that wasn't a music thing.
But it didn't really get finished, because one of the stars, Garrett Morris– you've seen him on Saturday Night Live and the Jamie Foxx Show–he wanted all this cash in the end and it halted production. So I went back to writing and writing more scripts. I was like, no matter what, this is gonna happen.
I was touring and recording from 2006 when I shot Sonny Dreamweaver, so a lot of these scripts didn't turn into films. Most films take maybe a year to a year and a half. I was working with no budget, pretty much, anything I made at the shows I'd throw back into the movie. I met Fatima (Washington, filmmaker and co-founder of CorFat Productions) after that, when I was figuring out how I was gonna deal with the Garrett Morris thing, at Golden Brooks' house, who was on the TV show "Girlfriends."
Golden was the cousin of someone that brought me up there. They're all from Oakland. I used to see her on Telegraph when she went to work. I was over at her house kickin' it, and I met Fatima, who I thought was beautiful, and I was thinkin', I can work with this. I liked her.
As we got to know each other a little bit more, I saw that she was hustlin' and bustlin' in Hollywood, doing all these side jobs to survive for years, and she had a bunch of projects she wanted to do. Not only was she similar to me, but her story was maybe something we could make into a movie, and just ask our friends and other people to be in it. That's when Isis Dynasty was born.
We went to Palm Springs, and I sat in the hotel room and knocked out the beginning of the script, and came back to LA and finished it. We were gonna both co-direct it. This is our moment to show everybody we real wit it, ya feel me? We shot it, and now we're doing the Indiegogo campaign to cover the post-production and submitting to festivals.
Since then, I've written six more scripts, and one is a TV show. You don't see me in the club, or on the strip. You see me in the crib, working. That's all I do. If you're a painter, you paint. Any writer that's really serious about writing, that's all they do. And that's basically all I do, when I'm writing music, or scripts, that's what I do.
SJ: Were you with the Living Legends when they were the Mystik Journeymen?
CJ: I started both of them! When I came back from Hawaii, I ended up living with a producer, so I learned production. When I didn't get the script to work out, my friend and I rented equipment to make beats. We were cool, but he wasn't a rapper. He was just a friend.
I turned three of my friends into rappers. I made them start rapping and it became a group, the Mystik Journeymen. It was fun, and we did a few shows. I was really cool with Hiero, I went to school with Del, and we lived around the corner and exchanged cartridges.
I wanted to taste exactly what it took to do music and be with the homies, because Del was with his friends, and he was doing it, and they all were cool. I wanted something like that, where me and my peoples was really peoples, and we weren't just together because we could rap. So we became the Mystik Journeymen.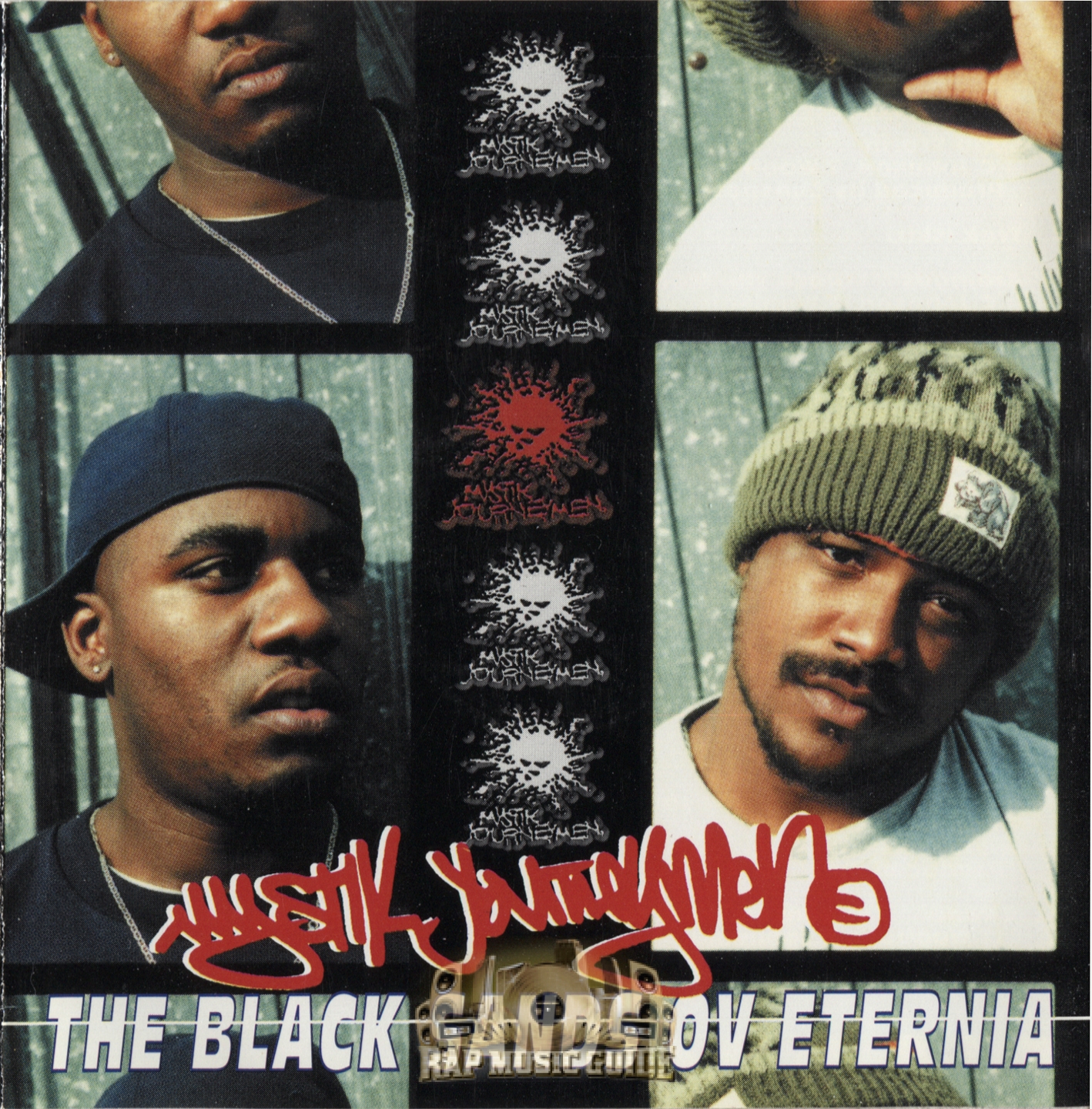 My boy Andre the Emperor came up with the name. He used to be down with Hiero–he was on Del's "Sleepin' on my Couch" cover.
He had a list of names, one of which was Monarchs of Dialect, and I was like, nah, that's too deep on em. So he came up with Mystik Journeymen. I said it was deep in a whole 'nother way–'I'm gonna fulfill that!' It came around to a time where we had to record.
I was at home at my auntie's house deep in East Oakland in her back room since I'd dropped out of college. I was back there making these songs and writing raps for homies in the group, and fools just wasn't taking it seriously in the group. I was psycho focused. I was hella young, I'd just dropped out of college, and I was like, I don't wanna be stuck in my auntie house for the rest of my f***in' life–we gotta do some work! I was like, 'you gotta step up your game,' to myself.
So I wrote verses for the homies to do, and they just could not execute it. It got to a point where some of em said they didn't wanna do it. I was forcing them to be in it anyway. Another one had a girlfriend, and that was more important than the group, and it got to a point where I was like, alright, I see where this is going.
At this time I was going out with this girl named Molly; she went to Berkeley and lived in Clark Kerr dorms. She was like, 'yo, my friend's boyfriend's up here from LA, we should meet him.' So we went over to the dorm, and that's where I met Luckyiam, the other guy in Mystik Journeymen. We really hit it off, just from him coming up that one day and hanging out and going to a party, we forged a bond strong enough to make him move from LA to my auntie's house to start the group with me. And I gave him a tape that he left with, and he was still bumpin' it when he got back. I could tell it was real.
Luckyiam came back with a baby pitbull that was a newborn, and my auntie and uncle didn't know he was living in my room the whole time! There was my bed and there was the wall, and there was a little space in between my bed and the wall beneath the window. You had to look over my bed to see this guy from the front door of the room. So they would never see this guy. They worked so early in the morning that by the time they came home, I'd act like he just came over. So we became the Journeymen. We got evicted from a place on San Leandro Blvd., by Fruitvale BART. I got in a fight with our landlord because he accused us of something, so I tried to fight him. I was a young guy with a temper, and he was, like, fifty-eight. We had to find a new place, so I was like, let's just use our rent money and buy student tickets to Europe. Why not?
SJ: Good move!
CJ:  The DJ from Blackalicious, Chief Xcel, hooked me up with a guy named Blue Eyes from a group called Suspect. He invited us to stay with him and he'd find us shows in London and Bristol. So we took those words and next thing we were in England, Switzerland, Norway, Germany.
We came back probably three times, and the third time we came back with The Grouch, who was going by the name Corey S. I ended up naming him The Grouch right when we came back, because he was always in a grouchy mood.
When we came back the fourth or fifth time, I was gonna bring Murs and Araka, my Japanese homie, along with Grouch. That's when I came up with the name Underworld for us, which was all our friends on Telegraph with us all day.
When we went back to Europe, there was a big dance/electronica group named Underworld. At this time, me and Lucky hadn't found permanent places to stay, but we stayed with Grouch at his grandma's house who had passed away a year or so ago, and then his mom was gonna move back down from Montclair so we had to move.
I ended up moving to my ex-girlfriend Zena's house. We had an offer at that time to go back to Europe. The dude at the STA Travel office on Telegraph was saying there was another group called Underworld, so I decided I didn't want that name.
I was watching TV and I saw something about Bob Marley, and I thought about us and how we'd been to Japan, we'd climbed Mount Fuji, we'd gone to Norway, we had eaten reindeer, we'd gone to Switzerland…it was crazy. We'd gone to the French Riviera and Nice. I didn't know anybody in East Oakland that was doing that. At that time, underground people weren't doing that.
I was like, 'man, we're living legends!' This is legendary what we're doing. This is what you hear about later. We're Living Legends. So from that moment that was our name. From East Oakland, worldwide, underground.
And all of this s*** I learned from John Swett, Elizabeth Sherman, Skyline, Bret Harte, Fricke…these are all places I went to school and learned about worldwide s***, too, learned about different countries. They were strong in my upbringing.
SJ: "One of the few that made it out the Oakland Zoo" is one of your lyrics. How'd you come to use that metaphor?
CJ: I'm from East Oakland. I've gotten guns pulled on me. Not just from my mama, but from people just walking from Coliseum BART to Fruitvale, where I lived. In San Francisco, when there was the Hiero Hobo Battle back in the day. There was guns pulled then and fools took shots. They looked at us before they took the shots.
A lot of my friends ain't around no more. They gone. They in jail, or they dead. I got family that were crackheads that robbed me in they own house with them. My mama got her car stolen from in front of her house. My uncle blowin' his shotgun in the living room. My mama pullin' a gun on me just 'cause I wouldn't get her a pack of cigarettes. This is what I'm accustomed to, just even comin' from Oakland, you know? It's just straight chaos. You never know when it's gonna hit.
I love my city, don't get me wrong. It's just that it's a zoo.
SJ: Do you have advice for young up-and-comers trying to get out of the zoo?
CJ: (Laughs) Stay true to your soul and stay focused. Really understand what you want. What are you leaning towards? What are you trying to make happen? And, really, don't get caught up with a lot of things, whether it's chatter, negative people, just fears. You gotta break that fear and push forward towards the best that you know of your personal abilities, of what you can be.
A lot of people don't realize what they can be and what they can do and the power they have inside. Push that as far as you can, and don't stop. The moment you stop, that's the moment you give up on your dreams.
SJ: Thank you so much for this interview.
CJ: Nah, no doubt! Thanks for writing.